Thu, 15 February 2018
Brain Soup - Episode 468 - The Knitmore Girls
This week's episode is sponsored by:
No matter what you need, the barmaids have you covered from head to toe. Face pudding to keep you smiling, Lolo lips keep them kissable, probiotic deodorant for keeping you fresh as a rose, oh for feet's sake to keep your feet soft and sandal ready, and the Lolo body bar for everything in between. You can find all this - and more! at bar-maids.com
Every hobby needs organization, every project needs a place. Erin.Lane bags helps you turn your fiber pasttime into neat and organized endeavor. Our project bags, totes, and needle and notions organizers are everything you need to keep your fiber arts from fraying.
Knitmore listeners, we're so excited to have not one, but two brand-new dyeing techniques to share with you this year at Stitches West! So come see Black Trillium Fibres in our new location, booth 1033/1035, where we'll have our usual gradients and regular skeins, plus our Stitches West 2018 exclusive color as well as a limited quantity of our latest experimental styles: My Little Rainbows, and Cloud Layers. We can't wait to see you there!
Join Little Skein at Stitches West, where we are debuting a brand new collection inspired by one of my very favorite books, To Kill a Mockingbird. Helen Stewart has created a beautiful new shawl for us, Must Stash Yarns has created a new self-striping cowl colorway, and we'll have plenty of project bags in our exclusive Knot Hole Tree watercolor print. See us at the show, or preorder your kit online, all during Stitches West weekend.
On the Needles:(0:33)
Jasmin is casting on a hat for Knit Aid. If you reach your Ravellenic goal early, take a victory lap,
and knit a refugee hat.
Also, there has been an extension on the call for more refugee hats (and other listed items)
from Knit Aid.
Jasmin is just past the armholes on her Frozen Hearts sweater
Gigi cast on an American Heart Association hat out of Malabrigo, color 033 cereza. She knitted ears
onto an animal hat.
Gigi is working on her ravellenics project, the Ribbi Cardi out of cascade Venezia.
Gigi is also working on the Russell Street Shawl and has finished the dark brown, the fifteenth color,
finished the colored border and had started the body of the shawl.
Jasmin mentions the Rittenhouse kickstarter, and talks about the purse. (Go listen to BostonJen's
episode 131 for a counterpoint. If you want to see it, the Knit Girllls did a review on their video cast)
In Stitches:(16:50)
Gigi has been wearing the Quynn hat for sleeping, wool socks and the Knitmore Cowl
Jasmin: Frosted Top, Resistance hat.
Genevieve: Sweet Impeachment hat, Elsa Sweater, Olivia Hat,
Promo for Nomad Yarners Podcast
Events: (25:00)
Stitches West February 22-25, 2018. Meet and greet Saturday 11:30-1:30 in the Erin Lane booth.
Ravellenics are ongoing, February 9th -25th. Join Team Sasquatch!
Also, we have Stitches West tips!
And the Expenses Tracker, which we forgot to mention
Mother Knows Best:(28:35)
This week we discuss another etiquette question: How to react to compliments. Feel free to compliment me. Mallory and Zede Donahue. Sewing out loud.
When Knitting Attacks:(33:55)
Gigi needs to read pattern instructions for the Russell Street Shawl.
Review:(36:24)
This week we review
Vogue Knitting, The Ultimate Knitting Book
Jasmin mentions Debbie Bliss, How to Knit, and Susan B. Anderson's
Kids Knitting Workshop, and Kids Knitting by Melanie Fallick
Straw into Gold:(45:49)
And Sew On:(48:12)
Gigi's class at West Valley College is Flat Pattern Construction.
The book they are using is Patternmaking for Fashion Design , Gigi discusses the Slash and spread method.
---
Fri, 8 April 2016
Darn Good Stuff - Episode 372 - The Knitmore Girls
This week's episode is sponsored by:
On The Needles:(0:34)
Jasmin is working on the Spock sweater and is very pleased with the colors.
Gigi has finished two pairs of Opal socks.
Jasmin finished the Landon pullover and blocked it. She mentioned the sale at Lisa Souza.

Gigi is working on the Peppermint Mocha socks out of Coffee with C.C. and ruminating on which heel to use. Jasmin has made some progress on her poly Chevron cowl, out of Black Trillium Fibres and is quite thrilled with it.
Gigi finished another preemie hat, and she finished the Buzzbee hat from Woolly Wormhead out of yarn from a taster kit from Sheepspot #25000tuques #NewHomeNewHat, and she won Yarn Chicken.
Jasmin knit the sunflower beret #25000tuques #NewHomeNewHat. She may knit more. She used Regia 6 in green, Opal 6 ply for the yellow and brown.
Thank you, again, to the Bar Maids for shipping the first 612 hats! #25000tuques #NewHomeNewHat
We are going to have a cowl Knitalong together with Lux Adorna Knits. This will be known as the #Zebralong (also tag with #LuxAdornaKAL for a chance to win prizes in their group and thread!)
Official cast on date is May 1st. Ravelry threads can be found on the Knitmore forum, and in the Lux Adorna group

In Stitches:(19:42)
Gigi wore her Sothia shawl, which was blocked, but she had neglected to weave in ends. Also she wore socks and could feel the stitches on her feet. We mention Kroy sock yarn.
Genevieve wore the little Oak Cardigan, Ophelia Addams hat and wristers, Duck sweater, and the tulip stripes cardigan,
Contest:(24:06)
Parameters for participating in the #operationsockdrawer contest:
Participants: post a picture to the ravelry forum, or to instagram with the #operationsockdrawer, have your ravelry name on your instagram profile. Feel free to double dip your projects.
Projects will be judged on originality and general delightfulness.
--------------------------------------------------------------------------------------------------------
Also, we have prizes for the Elizalong from:
- A Good Yarn, they sent the now unavailable Oh- Snap pouches from Namaste
- a half off coupon for a sweater's worth of yarn from Quince and Co. (We are going to supplement the cost of the yarn to make a whole sweater.)
- Our regular day to give out a prize hopefully will be the 13th of each month.
---------------------------------------------------------------------------------------------------------
Gigi and Jasmin are both intrigued with linen and knitted linen ribbon. And Jasmin noticed that a t shirt she just got from Old Navy is actually half linen.

Mother Knows Best:(30:02):
This week we answer two questions from the "What do you want to hear about?" thread in the forum
One listener asked if we were project or process knitters.
She also liked the bucket book. LINK?
Also, we answered a question about kids learning to spin. Gigi mentions Respect The Spindle.

When Knitting Attacks:(45:31)
Gigi was working on the Peppermint Mocha socks and noticed that she had a hard time counting to four. She also managed to have different numbers of stitches on the top and bottom of her Vanilla socks, and had to rip back to the beginning of the toe.
She was working on hats and the tip of her brand new needle sheared off.
Jasmin was working on her poly Chevron cowl, out of Black Trillium Fibres. She messed up the pattern so thoroughly that Gigi ended up pulling back five rows.
Also, the Landon pullover is too tight to go over Rex's head, so she will put in a zipper. She also mentions Shetland. And Grantchester, both tv shows. (There's a thread about Shetland in our Ravelry group here.)
Review:(54:45)
This week we review Betsy Beads, by Betsy Hershberg

And Sew On:(1:02:32)
Gigi shortened three pairs of jeans and patched another pair for GrandpaDahling.
---
Thu, 7 January 2016
Progressively Crazier - Episode 359 - The Knitmore Girls
On The Needles:(0:36)
Jasmin is working on the Bon Bon Toque by Tincanknits. She is knitting it out of Mountain Meadows Wool for #25000tuques #NewHomeNewHat.
Purlescence is a collection point for hats for Syrian refugees.
Gigi has knitted three Perennial hats, one of them for herself, and the other two for the #25000tuques project.
Jasmin made progress on the Landon pullover, designed by Katya Frankel, out of Lisa Souza BFL. (There are discount codes from Lisa Souza and Katya Frankel on the project page.)
Gigi has finished the citrus colored sock, and she finds the shades of grey vanilla socks very potato chippy. Jasmin is working on the Churchmouse baby wrap cardigan out of FabFunkyFibres in the Spock colorway.
Gigi is knitting on a cowl out of some black-ish handspun out of mistery fiber.
We announce the Eliz-along! We are knitting sweaters out Elizabeth Doherty's book Top Down: Reimagining Set-In Sleeve Design
Jasmin is starting with the Helvetica and Gigi will be knitting the Copperplate. We will be knitting the designs in Quince and Co yarn. This knitalong is running in conjuction with #projectsweaterchest.
In Stitches:(19:50)
Gigi wore handknit socks, the Knitmore cowl, the Serpentine cowl, wristers, the new Perennial hat, and her Cassidy.
Jasmin wore the Mondo Cable Cardi, the Tess silk and wool hat, the Tangled Yoke cardigan She engaged in a sweater wash-a-palooza, with totally unscented Allure. She washed her Carli, the Kobiyashi Maru, and the yellow hat. They also used the Fiberwash from Unicorn Fibers for three other handspun sweaters.
Genevieve wore Elsa cardigan, the Elsa hat, Olivia hat, and Bumble hat, ola hat, and the Kapuzin hoodie,
Rex wore the Purl Soho Baby cardi, and the Kobiyashi Maru.
Sam wore the San Jose Sharks scarf that Gigi knitted for him.
Contest:(29:47)
The Grinchalong is finished. Winners TBA soonest.
---------------------------------------------------------------------------------------------------------------------- Our annual Do Some Good Contest :
Do some good on a local, national or global level, post it to the thread, maybe you'll win a prize! But you'll definitely do some good, and that's awesome. The contest will close around January 6th.

Winners will be chosen on the basis of originality and delightfulness. Also, your charity needs to benefit more than your immediate friends and family.
Do Some Good prizes:
A Lolo Foot bar
a very big Erin Lane bag,
and a Leslie Wind cable needle ring
Contest will wrap up next week.Winners will be announced in episode 361
__________________________________________________________________

Mother Knows Best:(31:46)
This week we answer a question from the "What do you want to hear about?" thread in the forum
about what we do with the leftover ends of bobbins.
When Knitting Attacks:(35:07)
Gigi was attacked by standard vs metric. She knitted four inches instead of four centimeters for the headband of her Perennial.
We mention NASA and The Martian
Review:(36:45)
This week we review Playful Hoodies
, by Mary Rasch
Gigi raves about Fleece Hat Friends
, by Mary Rasch

Straw Into Gold:(45:47)
We play with the Acadia Spinning Wheel by Infinite Twist
And Sew On:(49:56)
Gigi mended a sheet that the dogs had torn. She used Wonder Under
to fuse a patch to the sheet before she sewed it on.
---
Mon, 31 October 2011
Running downhill - Episode 167 - The Knitmore Girls
This week's episode has been sponsored by:

Here at Abstract Fiber we've got some fabulous new colors including Summit, Lagoon, SOAR, The Gorge. The next best thing to being at SOAR is our SOAR colorway, the color of Autumn leaves. Available now at abstractfiber.com .
Meet Lo-Lo by Bar-Maids, "The Hottest Natural Moisturizers in the Fiber World". Bar-Maids handcrafts head-to-toe moisturizers for people who wish to proactively protect, defend, and restore their skin to baby bottom soft. Bar-Maids uses only the finest local ingredients available creating non-greasy, non-sticky, non-flaky combinations that penetrate multiple layers of the skin working to soften and nourish. Once applied, the moisturizer remains where you put it and is not washed down the drain. With over 38 scents (that smell wonderful), and 8 lip balm flavors that taste yummy, it's hard to choose just one. Find out how you can keep your hands moisturized and beautiful while knitting up a storm at www.bar-maids.com Fair shipping practices, cruelty free, and fast turn around times are just icing on the cake.
Lisa Souza has a brand new lace yarn for your pleasure. Grace is a beautiful combination of 80% merino with 20% silk for just the right amount of sheen and handle. We have been putting the yarn through its paces and love the results, as will you. Grace is put up in 4 ounce/744 yard skeins and comes in at $24, which is a great price point, making for some serious stash enhancement for you or the other lace lovers in your circle. Now, which color to choose? Come by the website at www.lisaknit.com and just try to decide.

Purlescence Yarns is the Bay Area's destination yarn shop. From the best in spinning and weaving equipment to luxurious yarns and fibers, we have what you need to make your fibery dreams a reality. We're always happy to provide mail order service for Knitmore Girls listeners. Call us today, it'll be on its way!
On the Needles:( 0:32)
We will be taking an indefinite break starting on January 1st. We will leave you with a list of podcasts to listen to.
Gigi is working on the Katriel in Cascade Venezia Sport, by Robin Ulrich, the designer of the Sothia. She has also started the Kleio, by Romi Hill. Her Rocky Coast Cardigan has been swatched out of Cascade Ecological Wool. She is also working on the Katje, a hooded, top down cardigan, by Coco Knits and is worried about running out of the Venezia Bulky. The Odelia, by Cocoknits, out of Silk and Wool, by Tess Yarns, is coming along nicely,
Jasmin is working on her Daybreak. She is also working on her Rocky Coast Cardigan.
She asked for creative input from voolenvine who suggested a garter stitch baby kimono, in a lovely red Skinny Bugga from The Sanguine Gryphon. Her mini blue streak cardigan is almost done.
Mother Knows Best: ( 25:31)
We answered a questions about:
- Blocking or weaving ends first, where to switch from one balls of yarn
- We NEVER use glue for knitting or sewing.
- Fraycheck for microfiber ribbon is a good idea though.
-How to sew in ends. Joining pieces.
We referenced Lucy Neatby, Kaffe Fassett, and mentioned Paula from the Knitting Pipeline Podcast.
When Knitting Attacks: (36:56)
Gigi needs to make notes of what project she is ordering yarn for, especially when it is a whole bag of Chunky Baby Alpaca. Jasmin's stash is refusing to give up its secrets. She is sure she has a bag of navy blue Malabrigo, as well as some gray Ceallach yarn which is also evading capture in her stash.
Review: (44:16)
This week we review Knit Local by Tanis Gray
Straw Into Gold:( 51:57)
Jasmin thinks that having a minispinner would be handy. She is spinning up the last bit of the fiber for the 10 year sweater. She mentions a conflict over knitted items on True Blood. She needs to take more breaks while she is spinning.
She answered a question about spinning airy worsted weight yarn, and discussed Cascade 220 vs the heavier Miro by Abstract fiber. She mentioned the Butter by Nadia dresses, which are heavy and feel expensive. We also mention Haagen Dazs Ice cream. Which relates to swatching and drape of knitted fabric.
We mention Jasmin's Fulling Yak video.
---
Wed, 9 February 2011
Director's Cut - Ysolda Teague
This Director's Cut episode has been brought to you exclusively by: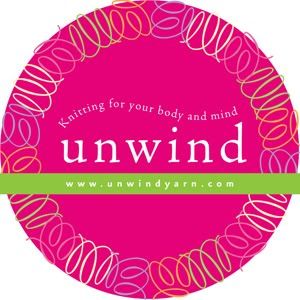 Unwind, Southern California's destination LYS, is excited to announce its "pop-up store" at Stitches West! Unwind features a beautifully curated selection of yarn and projects, certain to make every knitter gleeful. For an exclusive selection of Sweet Georgia Yarns, True Love Fibers and Frog Tree Sport Alpaca, along with patterns from your favorite indie designers, visit Unwind in booths 1245 and 1247.

You can find Ysolda's blog here, her schedule here, and on Ravelry as Ysolda.

Things we talk about during this episode:

Whimsical little knits 1 & 2
Little Red in the City
Electric ball winder
Little Shop of Horrors
Asunden circular baskets (from Ikea)
Boardwalk Empire
Carnivale
---